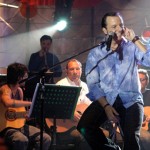 The song reached the Top 4 of the Tropical Billboard Chart, an event that was received with great satisfaction by the Chilean singer-songwriter, as this song represents a milestone in his career.
"Pa'lante" has been such an event, even more, days ago Willy Chirino performed at the White House this song before the President of the United States, George Bush, who sat in the front row, cheerfully enjoying and listening to the song composed by Alberto Plaza.
"Pa'lante" was originally recorded by Alberto Plaza in his album "Febrero 14", released in 2003. This song has been a total popularity phenomenon in Argentina, Bolivia, Chile, Colombia, Ecuador, Costa Rica, and Peru.
Moreover, "Pa'lante" has been a motto for diverse political and social campaigns in several countries of Latin America.
In Colombia, this song was the one that accompanied the reintegration of former 702 paramilitary into civilian life. In a historic act, they laid down their arms pledging to work for peace.
On the other hand, the music of "Pa'lante" is the institutional theme of Mega TV, one of the most important TV channels of Miami.
A few days ago, Alberto Plaza and Willy Chirino met in Miami at the morning Univision's TV show "Despierta America" to play a duet of "Pa'lante". (see video)
http://www.youtube.com/watch?v=JwsDolHBlyU&feature=related