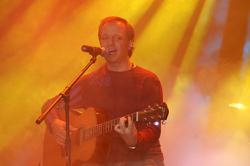 NEW ALBUM
The intense romanticism and magic of the songs from the new album by Alberto Plaza "Remedio Pa'l Corazon" have captivated Peru where the well-known Chilean singer – songwriter achieved Golden in only two weeks after its release.
Several years passed without an artist getting a Golden Disc in this country; however, Alberto Plaza rapidly achieved this important recognition.
In Peru, Alberto Plaza has been reaping success for over a decade. His hit "Bandido" became the Song of the Year, and numerous of his hits have been number one on the national radio stations.
Peru is the first country that edits and releases this new record production that will be for sale on December 1st.
The album "Remedio Pa'l Corazon" maintains the romantic essence with which Alberto Plaza has conquered thousands of followers around the world. In this album Plaza, once again, shines as a talented singer-songwriter turning each one of his new songs into a unique piece of art.
"Remedio Pa'l Corazon" is the twelfth album in the successful artistic career of Alberto Plaza, to which he devoted three months, and long hours in the recording studios in Medellin, Miami and Nashville (United States).
"In this work we put a lot of energy, it's an album with Caribbean rhythms, with songs to dance and, of course, ballads made for the soul. These are songs that are related to what is happening to me nowadays", says Plaza.
The author of "Ahora" will be visiting Peru in December (from 17 until 22), promoting "Remedio Pa'l Corazon". An extensive promotion tour, and autograph signing will be waiting for him in well-known music stores where Plaza will meet his fans.