With a spectacular technical operation, Alberto Plaza filmed in Bogota last Sunday April 27th the video for "A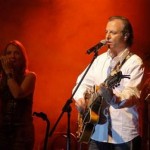 hora Dime", a romantic song full of seduction, that belongs to his recent album "Remedio pa'l Corazon" to which he chose the celebrated Venezuelan actress Ruddy Rodriguez as its protagonist.
In the middle of his road tour in that country, Alberto Plaza was in charge of directing and starring in the musical video, where he shared the stage with Ruddy Rodriguez, a celebrated actress, entrepreneur and former Miss Venezuela, who filmed along with Plaza the musical story of "Ahora Dime" in the Colombian capital.
The renowned actress, who made her film debut as one of the Bond girls in "The Living daylights" (1986), has been the main character of successful television soap operas, and films in Latin America.
Rodriguez has also been praised in her role as one of the protagonists in the Colombian-Ecuadorian version of the hit show "Desperate Housewives" where she plays the strict, obsessive and methodical Eugenia Kopell (Bree).
Alberto Plaza will finish his tour in Colombia 2008 with a concert that will be held in Popayan on April 30. After his Colombian tour, the arrival of Alberto Plaza is expected in Mexico where he is going to perform two spectacular concerts in May.