"My Essence is Singing to Love"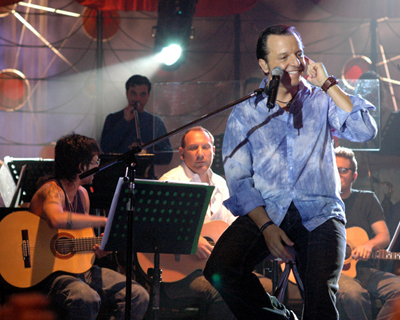 (La Mañana de Córdoba)
The city already knows him, as he knows the city as well. It is not the first time he steps on the Cordobian stage – this year he has already performed in cities close to the Capital – and his fans don't stop following him.
"Remedios pal' Corazon" is the title of his latest musical work, and in it, ballads and Caribbean-rhythm songs are mixed. A different project, as the singer said, that was absolutely accepted among his fans.
From Chile, Plaza talked to LA MAÑANA, and commented how glad he is to return to the Docta.
"It is a captivating city", he said, also telling us that "Ahora dime", one of the most listened songs in Chile, was written one evening in Carlos Paz.
 You have come many times to Cordoba, what is it that captivates you of this place?
• "The reason is that the people of Cordoba are very hospitable, very kind. Since the very first moment I visited Cordoba, I found a captivating city for its people, landscapes, and culture. Things that happen in Cordoba do not happen anywhere else in the world, like the quartet phenomena and the Cordobian sense of humor. Those are things that make you fall in love with the place."
 Did the landscape work as a motive of inspiration?
• "Well, in Cordoba I wrote several songs. For example, one of the songs that we chose to promote the disc on the radio, the well-known "Ahora dime", I wrote it while being in Carlos Paz, in one of those evenings of inspiration. We could agree that it is a song of Cordobian nationality."
New record, new rhythms
 This is a quite different album from the others, why?
• "This is the consequence of the influence of living in Miami for the last few years of my life, listening Caribbean rhythms. And the truth is that I love the results, I am very happy. And the best thing is, I believe that this is the feeling of every singer, that the audience liked it".
o They are very glad.
My essence
 Although there are songs of great energy, the core is still love stories.
• "Yes, because it is my essence, it is what I will never quit doing, this is what strongly dwells within me."
 Why do you think it is important to sing about love?
• "That is what life is about; we're always hanging around that. We always have a couple, friends, brothers or sisters, or parents to whom we sing. Everything is a relationship of love. Music and poetry must take care of what is essential in humans. It can have different expressions, but everything talks about love."
 Among the audience that follows you, there are a lot of men, who feel themselves touched by the lyrics…
• "I feel that, in a way, songs identify common stories that happen to many people. So many guys sing my songs to their women. It is very beautiful when it happens, because in my concerts there are lots of couples that get stronger, and that is the good thing. Because a concert must always have an objective, it can't be just singing. My goal is that the public leave happy from my concerts, motivated, stimulated, in order to fortify a stronger relationship, or a familiar one.
The best remedy
 What is the best remedy for the heart?
• "Laughter, a good sense of humor. Getting a less serious conception about life is a therapy, hanging around giving smiles to everyone, being optimistic, even if you are deep in trouble. That is a wonderful therapy, an infallible remedy."
Alberto Plaza will continue the road trip through Argentina, singing this Friday in San Juan, and then returning to Chile in early December. Moreover, the Chilean singer said that the summer schedules are already being set, which might have concert dates in Cordoba. "I wish we were in Carlos Paz, I love to go back there, it is a very nice place", he concluded.