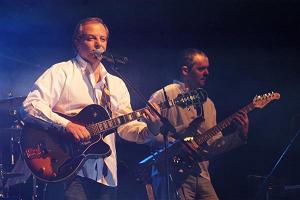 Photograph courtesy of Maury Phillips/Wire Image
(Andres del Real, El Mercurio, Santiago, Chile) In February 1985 a young Alberto Plaza went up on stage at the Quinta Vergara to perform "Que Cante la Vida", song of his authorship with which he got the third place at the Viña del Mar International Song Festival that year, being now one of his most celebrated compositions. That was the debut of the national singer-songwriter in a massive stage, and the beginning of a successful career that turns 25 next February.
Although, the artist plans to launch a duets album with his greatest hits for that anniversary, the commemoration of his first quarter of a century in music had yesterday its first approach; in a tribute held in the United States that Plaza himself did not know about. It was to happen on the night of the third Estrella Music Award, which were held last night at the James L. International Knight Center in Miami. In the event – in which emerging artist compete, and it presents music and television celebrities – were honored the great Mexican singer Jose Jose and the Chilean Alberto Plaza, who was given a surprise award for his contribution to the continental music.
"It's nice to feel that I was considered for the show, my work has been very appreciated here", said Plaza yesterday, minutes before rehearsing his song "Pa' lante" along with the orchestra of the event, in which TV celebrities participated such as Lucia Mendez and Lupita Ferrer.
The performance of Plaza in Miami took place two days after his highly acclaimed and packed concert in the Grammy Museum in Los Angeles, CA, last October 28, also after his reunion with the national audience in September. "Chile is still the place where I feel the strongest affection for people," says the author of "Bandido".
The song that marked the beginning of his career could return to be sung in the Quinta Vergara in February, if the singer and prison inmate from Talagante, Aldo Bustos, qualify to represent the song of the Bicentennial in Viña 2010. "The song speaks about freeing the spirit, and it is very meaningful that a man deprived of his liberty sings it." says Plaza.