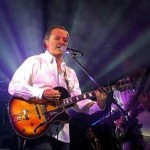 The great Chilean songwriter reviews in these pages his moments of magical inspiration, when he lived immense emotion and those seconds when he took his guitar to translate into paper those feelings.
Once in a life time moments, amazing and unique, that Alberto Plaza himself revealed. "To write the songs on a new album I cut myself off. I go to the beach alone, I forget about the world and go with a guitar, a piece of paper and a lot of silence. Over the hours, the silence and the contemplation begin to bear fruit. In meditation there is the source of all wisdom, one looks inwards and all the past comes to life again, and then everything becomes written feelings. I think that maybe next year (2007) I will have a new album, but I am not totally sure, because I don't put pressure on myself to create, I create songs because I have something to say". (Alberto Plaza, to El Mostrador, December 17th, 2000)
"Que Cante la Vida" (1985)
"De tu Ausencia". Although it looks amazing, Alberto Plaza wrote
this all time classic 10 minutes after concluding a great love story
(December 5th 1984). "I wrote this song right after my girlfriend –
who I loved a lot – closed the door of my house. This is a very curious song, because the lyric says: "The past is still in the house, your memory hasn't gone, it's a never-ending winter, and everything frosts"… It looks like our break-up happened long time ago, when it actually just happened". "De tu Ausencia", was at the top of the Chilean radio stations ranking for eight weeks. Also, it was chosen the "Best Song of the Year" by the specialized press. "This song was a big surprise to me. In fact, I wrote it not even being a professional artist, but as an advertising student, which makes it absolutely clean of the success hunger. When we recorded it, we did it thinking of filling up the B side of the disc that had the song "Que Cante la Vida", song which I would later participate with at the Viña del Mar International Song Festival of 1985. With all the success that this last one had, it was very difficult to think about beating it, but it came "De tu Ausencia", that was discovered by a radio programmer, and the rest is history". A story that became one of the most important songs in his musical career, because it would come to confirm that Alberto Plaza wasn't just a 85' Viña del Mar International Song Festival success, but an artist with musical projection that went beyond frontiers.
"Pudo Ser un Gran Amor" This was one of the first songs that Alberto Plaza, in that time an advertising student, created in his mind and played on his guitar. ""Pudo Se un Gran Amor" was one of the hardest songs to write. It is inspired on a very complicated relationship I had back in the 80's. I did not know that life is full of love stories that could have been great ones, but something wanted them not to be. The truth is that the love stories that we have are just the "top of the iceberg" from those we might actually have". Alberto Plaza wrote this song on an inspiration night. "One day I was in my bedroom – next to the piano- thinking about an intense love that I had lived, but with which I had had many difficulties. And remembering the nostalgia of this unfinished love, the lyrics of "Pudo Ser un Gran Amor" were born.
"EN LA ESCALERA" (1987)
"Amiga del Dolor". Fifteen years ago this renowned songwriter was moved by a story that will become "Amiga del Dolor". "It strongly moved me what a friend told me. I remember that we met in the street, and she told me that she was pregnant, but she was going to stand by herself, because she wasn't going to get married. What happened to her seriously touched me and, when I got home, I stayed up till five a.m. writing the lyrics of this song".
"BLANCO Y NEGRO" (1989)
"Yo te Seguire" One of the favorite places that Alberto Plaza choose as a retreat station to compose his songs is the beach La Herradura, at the IV Region of Chile. It was in this summer resort where hits such as "Yo te Seguire" were born, and which he wrote while he was with some friends, when he stepped aside for a walk with his guitar to meditate about one of his experiences. "I had just gotten married (his first marriage) and I felt that couple life was an exercise of tolerance between two people which would need time to adjust. As the lyrics of the song says: "don't ask me for more of what I can give…" I wrote this song as a deep marriage reflection, to understand how to face the responsibilities that one has to deal with. Before getting married, one gets the pressures of father, mother, or from work, but nobody is told how to take them when it comes to love…
"COMPLICES" (1991)
"Aventurera" For this songwriter "Aventurera" represents a desperate cry of nostalgia for the magic that gets lost in love. "This song talks about the first stage of marriage, when everything starts very well, but little by little the small details begin to be lost. You don't give flowers anymore, don't say beautiful words. I started to miss being with my partner as two adventurers that go around life as Don Quixote and Sancho, against the windmills, against life…" This song was written in only two hours, while Alberto Plaza was on another of his songwriter retreats in one of the beautiful beaches in the North of Chile.
"MUSICA Y VERSOS DE AMOR" (1994)
"Pequeño Rayo de Sol". "This song represents the awakening of a new stage in life. In one opportunity I've said that life is full of cycles: the day is followed by the night, the night by the day, the spring by the summer, this by the fall, and then the winter, and then a new stage begins when spring comes again. Our lives are full of cycles, and this song talks about the arrival of a new spring for the soul. The meeting of a new being that comes to enlighten its dark corners that have been in darkness for a while".
"BANDIDO" (1996)
"Sentencia" and "Bandido". Undoubtedly, one of the happiest times in Alberto Plaza's life was having met his wife Sandra Munilla. And that love came into his life so strong that she instantly became his inspirational muse. Shortly after meeting her he composed two of his greatest hits: "Sentencia" and "Bandido". "These two songs represent love at first sight. A feeling that visits us a few times in life and we cannot let it go. In these songs I express the triumph of hope over experience, because it is the reunion of love after a big break-up". "Sentencia" was written in only two hours. "I saw her and I knew she was the woman for me, then, I arrived home that night and I got inspired to compose the verses of "Sentencia". Soon after he wrote "Bandido", the song that he dedicated to Sandra, while they were enjoying the beginning of a romance, that later ended up in a happy marriage which they still share now.
"POLVO DE ESTRELLAS" (1998)
"Milagro de Abril". As a premonitory dream, Alberto Plaza composed the song "Milagro de Abril". "I was at home with my wife when she said "why don't you write something about the arrival of a child, so that they come soon to our lives". So I went to my room, and got inspired for a couple of hours to write this song. It was like a prayer, because our first child, "Jose Domingo" was born on April 16". This song confirms the connection with other worlds, with other dimensions. What happens is that we believe that, because we don't see them, they don't exist, but I am convinced about the opposite. Many times in life things happen that we can't explain and we let them go, like if they were just coincidence, but I believe that they are more than that. I feel that something up there is governing us; it moves us and watches over us. That "something" was what gave me the inspiration to write "Milagro de Abril", what made me think about that month specifically, I don't know… It doesn't have an explanation; I won't try to give it in these lines, I just going to say that it is pure magic".
"Polvo de Estrellas". This is, undoubtedly, a magic theme, where you get access to the most intimate part of a human being: "the soul". The lyrics of this song – "Let me go in your dreams, prepare a place, open the gates of the soul, I come to stay" – represented one of the moments of the songwriters life. "I married very in love, and I still am with Sandra, my wife. When two people love each other and a universal harmony is produced in that encounter. The planets explode, the goddesses run away, suns go down from the skies… it's pure matter that crushes and moves", tells this artist that wrote "Polvo de Estrellas" in one afternoon of inspiration.
"ALBERTO PLAZA, 15 AÑOS VIVO" (2000)
"Ahora es Miguel". After fifteen years, Alberto Plaza thought it could be interesting to resume the story of "Amiga del Dolor". Thus he wrote "Ahora es Miguel", the thematic continuation of the previous song. As fast as he has written many of his songs, "Ahora es Miguel" came as a magical visit. "It was very unusual, because I dreamt about a contagious melody and I woke up with it. Then, immediately, I recorded the rhythm softly in my recorder, and as a result, this song was born, which I composed ten days before performing at the Teatro Municipal of Santiago (April 19, 2000).
He added. "This song means to understand that times have changed and now the reality of single mothers is very usual. In many issues, our society has become more tolerant about subjects that in the past were unacceptable. And the truth is that those mothers, that have an affective and sexual life, they have to divide themselves in order to satisfy their own needs and their children's. Even more, this is not limited only to single mothers, but to divorced ones too –each day more socially accepted – and widows. This happens more to women, because they live with the children, but it also happens to men who are in the same situation. The question is, how can you mend a broken life, with the children's complicity, if they belong to a different story?" reflects the songwriter.
"AHORA DIME" (2007)
"Ahora Dime" is the return of the happiness after living hard times. I have always said that in life everything is in cycles. The summer is followed by fall, to this the winter, and then spring to start over in summer. The night is followed by a day, and then the night, and so on… This means that when we go through a hard period, because of a suffering, we never have to lose the confidence on that happiness will follow that pain. And the same happens otherwise, happiness is followed by hard times or melancholy. This song is the end of a sad cycle and the beginning of joy.