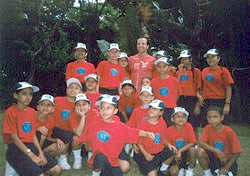 From guitar chords and lyrics of a song, a different concern has been taking place in the hearts of several young people of Bogota, those who have used Alberto Plaza's songs as a way to take on their social responsibility. Although many of them have come and gone, the group has been strengthened with the will of its current members. They, with just great effort and love for children day by day, fortify an unstoppable project.
Thus, after three years working as the Club of Friends, efforts were achieved through the creation of the I Will Change the World Association, a non-profit organization, legally constituted, that is still pursuing the goals of improving the children's quality of life in our city.
Therefore, the year 2006 the project "Seeds of Hope" takes place. It seeks to reinforce the values of honesty, respect, and solidarity in our children. So, Saturday afternoons, fortnightly, the members of the association arrive to Patio Bonito where a group of 40 little ones enjoy these hours full of tales, fables, colored paper, markers, paints, and delicious snacks.
The project will come to its peak in December at the Christmas celebration, which has become a tradition in the group. Activity on which, thanks to the support of private enterprises, has given to hundreds of children a sweeter Christmas in these past years.