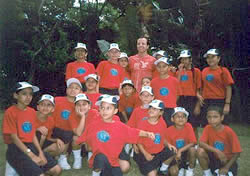 This club of friends made its first sport activity of integration and a paint workshop with disadvantaged children in this Colombian city. It was a kind activity that will remain in their hearts.
The Club of Friends of Alberto Plaza, in Medellin, gave tons of love to 14 children burdened by poverty and violence. To make this dream come true, they performed a beautiful recreational activity last September 28th, at the Institute of Physical Education of the University of Antioquia.
In this place abandoned children enjoyed a fun sports exchange with 13 children of a representative football team. Subsequently, all the children enjoyed a snack, and participated in a paint workshop, titled "The World you Dream of" inspired by the song "I Will Change the World", by our dear Alberto Plaza.